The main reason for us going to visit Dartmoor National Park was no other than doing the infamous
Dartmoor Devil audax ride
. The ride has got a well-earned reputation of being a toughie, with about 2500 m of climb in over 100 km. Right in the middle of the autumn, when the clocks go back one hour.
The ride is known to have a considerable amount of DNF-ers, but that did not deter us from joining. We've done plenty of hilly rides here in the UK and down in Spain, and never had a problem or felt unable to carry on. This ride was going to prove us wrong, for the first time!
We woke up to a very frosty morning, with all our camping gear and bikes covered in white stuff. Luckily, soon after 7 am, the soon rose, and with that, all the frost melted. After a quick brew and some breakfast, we were on our way from Moretonhampstead down the A382 to the start, at a pub in Bovey Tracey.
Interesting water formation!
Getting ready, 7 am
The quick bash down the A382 was surprisingly pleasant - that road is beautiful and mostly downhill. Traffic was really light (at least for those of us stuck in the Southeast!) and in less than 30 min we made it to the pub. Gary, the owner, kindly stored all our panniers for the day, until we returned from our ride. The atmosphere, as ever, was good, with people sipping coffee and chatting about bikes. We saw plenty of steel bikes with low gears, and a higher-than-usual number of mountain bikes, all good indicators of what laid ahead of us.
A tandem, yes. And two mtbs, at the Crown Inn, seconds before the off.
At 9:00 sharp, the organiser waved us off. Yet, as it often happens with us, we managed a late start, this time due to Lucy having momentarily lost her glasses! Despite that, we were off shortly after the main peloton and were up against the first wall of the climb. I thought it was a joke, a right turn off of the car park, and the steepest section of road I've done in quite a few months! The organisers were having fun taking pictures of us strugglers! Luckily, Lucy and I had mountain bike gearing, and we did not have much trouble getting up it.... The picture below illustrates this lovely hill.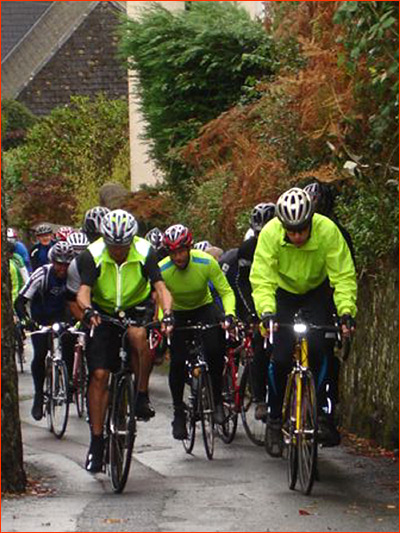 Image taken from the Dartmoor Devil 2011 website (by Lynda Swayne)
I could see on my GPS that the only purpose of that hill was to warm us up, as we then looped back around Bovey and into some more relaxed lanes. Despite our efforts to catch up with the main group, we only managed to keep them in sight for a while, on the flatter sections, to then loose them completely.
After 10 or so km, we started climbing the hills. Some of the roads were familiar to us as we had been riding some of them (though at touring pace!) the day before. 17 km into the ride, we found our first control, where some nice helpers were delivering great home-made cake as well as stamping our cards. To my surprise, one of them mentioned that we were already out of time by 5 min or so. However, as it appears is the unofficial rule in audaxes, you still get your stamp even if you are out of time. The one that does really matter is the last control, at the finish.
The control was at the top of the hill. The sun was still shining and the roads were quiet, so we went down the descent and into more lanes...trying to catch up on our times. However, the descents proved not to be much faster than the climbs, as they were full of potholes and leaves. Lucy and I agreed it had been a great idea to do this ride on fat tyres, and not the usual skinny 23 mm of our road bikes...and wondered how the rest of the people were getting on?
The route did not get any easier, with very few (if any) flat parts. Our progress was rather slow, and I kept an eye on our speed, being just above the minimum of 13 km/h stated for hilly rides. We were struggling to keep that up, and I could tell Lucy was not enjoying the ride that much. She hates "racing" against the clock, something that does not usually happen when we audax, but it did this time. It was true though, it felt a bit stressful to be out of time and unable to catch up, especially knowing that the weather conditions were about to change for some rain and wind...
We caught up with two of the last riders also, who were experiencing the same problems. Slow progress on the hills, and not enough speed to catch up on the descents. Apparently, the worst of all hills was yet to come. After a brief crossing of the A382, we turned right on to the Pepperdon Hill. Our companions, who were local, immediately advised us to put our lowest gear and take it easy. The road was labelled "unsuitable for motor vehicles", so there was no traffic other than us.
The hill was like no other I've done before, on roads, in the UK. Not only was it steep, but also completely covered in leaves and mud. I was glad I had the tourer, as it was ridiculously slippery (nearly fell twice) and no way I would have made it up on the skinny tyres.
Pepperdon Hill. More cyclocross than road cycling?
It really was steep!
At the top of the hill we met a few other cyclists, who like us, were running behind schedule. Time was tight, so we pressed on. The next control was manned - a guy and his wife were kindly stamping our cards, filling our water bottles, and telling us stories about their rides. They encouraged us to carry on - the worst of the ride was now over, and they reckoned we could still finish on time.
The last 20 km into the intermediate control were not easy. Rolling hills and rain continued for another long hour. We even started to feel cold and I had already given up on the idea of finishing the ride within the time limits, yet the scenery was great and I was still having fun.
We made it to the control with 5 or 6 other struggling cyclists. A hot soup and bread were waiting for us, which was most welcome. I saw a big group of cyclists setting off for the second half of the ride, in the rain and wind. If we had wanted to try and finish the ride, it would have been wise to stick to them, but hot soup sounded better at this point.
Once inside the pub, we had a little rest, got warm again, and chatted to the helpers, who, as usual, were interested in finding out where we both came from and what the hell we were doing in Dartmoor. It all got too comfortable, and the prospect of carrying on slowly disappeared. Once we put all our clothes back on, I saw Lucy still shivering. I would have loved to carry on, enjoy the scenery, hills and atmosphere, despite not being able to finish on time. We had come all the way from London, and it sounded silly to just give up. But it was probably the easiest bail out point, and with dusk fast approaching, we called it a day and shot off down the main road back to the start. It had been our first audax DNF. All the other cyclists who arrived at the control with us, also packed.
The 20 km back to the start went very smoothly. By 3:30 pm we were back at the pub with a pint in hand. Not the finish I would have liked, but it was not too bad after all.
Our train back to London was 5 hours later, which would have been ok had we finished the ride, but it seemed like a long time now. We eventually headed off to Newton Abbot, and enjoyed seeing one more random English town to add to our list.
Dartmoor had beat us, but at the same time, impressed us with great lanes and nice scenery. I will certainly try and make it back there soon for a bit of touring, throwing in Exmoor as well. I very much hope that the mud and leaves will be gone by then!
These inclined roads were the norm
All in all, we still managed to get almost a 100 km ride in, with plenty of climb and nice views. At the end of the day, we just enjoy riding, so I was not too bothered about not having finished on time. And yet, it is another excuse to try and beat the Dartmoor Devil next year, if we are still here.